Announcing the addition of JET Handguards
to the REAL Barkbusters product range.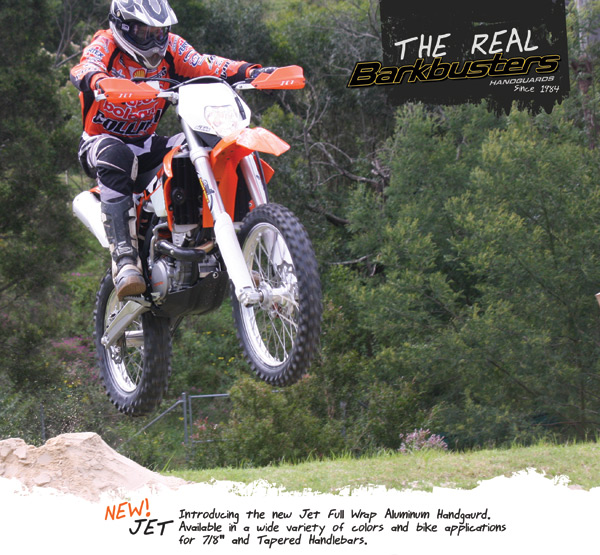 For the 2013 season Barkbusters has added the JET line to its range of offerings. The intent of this line is to outfit dual-sport, trail and enduro bikes with an affordable handguard solution. JET Handguards were designed with simplicity in mind, despite being limited to two handguard kits (
BB.JET01
&
BB. JET02
) the fitments capabilities are endless. New clever design features and production methods have allowed Barkbusters to reduce production cost. These savings have been passed on to the consumer.
Key features of the Barkbusters JET Handguards:
Aluminum backbones are heat treated for maximum strength.
Ergonomic drop down design of the backbone is ideal for bikes with long levers.
Flat spine offers a wide frontal area to help protect riders' hands.
High impact resistant plastic guard included to help protect from the elements.
Three axis mounting clamps for easy installation.
Plastics available in Black, Blue, Green, Orange, Red, or White.
The REAL Barkbusters brand of handguards were first manufactured in 1984 by Australian company Rideworx. With the help of Twisted Throttle, Barkbusters has managed to create a range of bike-specific handguard kits for dual-sport, adventure and off-road bikes that fit just right.